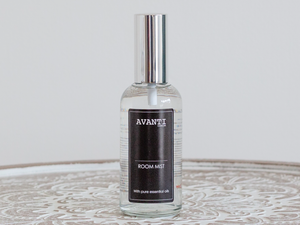 Tonka & Tobacco Room Mist
Immerse yourself in the deep and sensual aroma of tobacco leaf, gently sweetened with spiced honey and sandalwood. Base notes of tonka bean, amber and patchouli creates rich and powerful blend.

Gently spritz into the air to scent your room.
Do not spray directly onto fabrics or furniture, and spray away from eyes/face.
Crafted with the finest fragrance oils.
Text on label will differ.
CLP
(Cinnamaldehyde) Danger. Highly flammable liquid and vapour. May cause an allergic skin reaction. Causes serious eye irritation. Harmful to aquatic life with long lasting effects. Keep out of reach of children. Keep away from heat, sparks, open flames and hot surfaces. - No smoking. IF IN EYES: Rinse cautiously with water for several minutes. Remove contact lenses, if present and easy to do. Continue rinsing. If skin irritation or rash occurs: Get medical advice/attention. If eye irritation persists: Get medical advice/attention. In case of fire: Use foam for extinction. Store in a well- ventilated place. Keep cool. Dispose of contents/container to approved disposal site, in accordance with local regulations. Contains 1-(1,2,3,4,5,6,7,8-Octahydro-2,3,8,8-tetramethyl-2-naphthale- nyl)ethanone, Coumarin, alpha-Hexylcinnamaldehyde, alpha-Methylcinnamaldehyde, d-Limonene, delta-1- (2,6,6 Trimethyl-3-cyclohexen-1-yl)-2-buten-1-one.