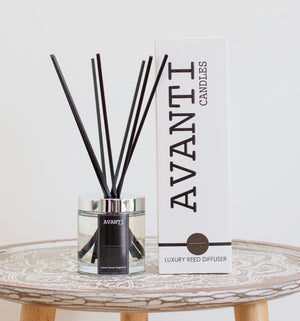 Egyptian Cotton Reed Diffuser
The purest Egyptian cotton brings a fresh and clean fragrance to your home. The laundry is done, the kettle is on, it's time to put your feet up.
- Fragrance lasts up to 20 weeks
- Innovative reeds - no turning required
CLP
(Iso E-Super, 2,2- dimethyl-1,3-dioxolan-4-ylmethanol, 4-tert- Butylcyclohexyl acetate, alpha-Hexylcinnamaldehyde) WARNING. May cause an allergic skin reaction. Causes serious eye irritation. Toxic to aquatic life with long lasting effects. Keep out of reach of children. IF ON SKIN: Wash with plenty of soap and water. IF IN EYES: Rinse cautiously with water for several minutes. Remove contact lenses, if present and easy to do. Continue rinsing. If skin irritation or rash occurs: Get medical advice/attention. If eye irritation persists: Get medical advice/attention. Dispose of contents/container to approved disposal site, in accordance with local regulations. Contains 3 and -(4-Hydroxy-4-meth- ylpentyl)-3-cyclohexene-1-carboxaldehyde, Acetyl cedrene, Hexyl salicylate, alpha-iso-Methylionone, d-Limonene, p-t-Butyl- alpha-methylhydrocinnamic aldehyde.