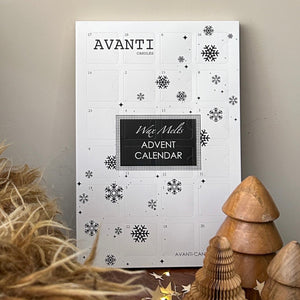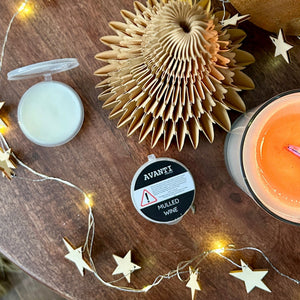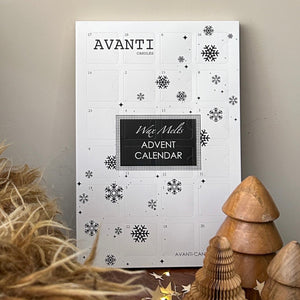 Wax Melts Advent Calendar
Discover the wonders of Wax Melts this holiday season with our exclusive Wax Melts Advent Calendar! Perfect for adding a festive fragrance to your home, our advent calendar includes 24 wax melt pods, each with a different scent. Make your holidays merry and bright with our super-sized advent calendar that will keep your home smelling of the festive spirit!
Behind each door, there is a different scented wax melt pod, each giving up to 10-15 hours of beautiful fragrance. Plastic pods are made from recycled plastic, and can be recycled again.
24 x different scented wax melt pods. Fragrance types include:
Christmas fragrances from our existing range
Warmer fragrances from our existing range
Festive-inspired and warmer/seasonal fragrances exclusive to this advent calendar. 
For CLP information, please contact us at info@avanti-candles.com.
How To Use
1. Select your wax melt fragrance
2. Remove the wax melt from its pod (you may choose to cut the wax in half if you wish)
3. Place the wax melt on top of a burner
4. Light a tealight at the bottom of the burner
5. Enjoy the fragrance for up to 15 hours
6. When ready to change your fragrance, let the wax cool down and simply wipe away with tissue
Fragrance Names
1. Winter Clementine
2. Oud Rouge
3. Candy Cane
4. Mulled Wine
5. Fig & Saffron
6. Carol Singers
7. Praline Truffles
8. Temple 74
9. Apple Strudel
10. Woodland Walks
11. Gingerbread
12. Sandalwood & Mandarin
13. Smoked Vanilla
14. Frosted Pine
15. Masquerade Ball
16. The Morning After
17. Ginger & Cranberry
18. Tonka & Tobacco
19. O Holy Night
20. Cherry Liqueur 
21. Three Wise Men
22. Deck The Halls
23. By The Fire
24. Festive Time